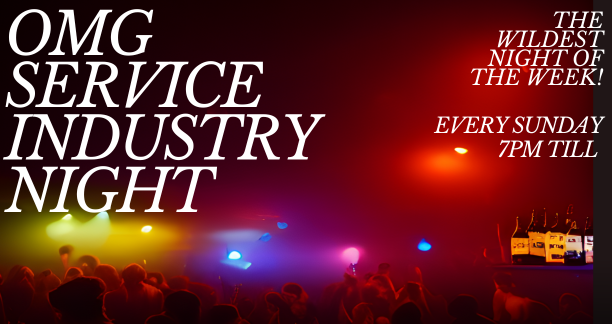 SERVICE INDUSTRY NIGHT!
Prepare yourselves for the most thrilling night of the week – it's time for "OMG Service Industry Night"! Join us for an unforgettable evening of pure excitement from 7 pm until close, where we're turning up the volume and letting loose like never before.
🎶 Music by karaoke DJ : Feel the rhythm. From chart-toppers to your favorite classics, get ready to sing and dance the night away.
🎤 Karaoke Optional: Ready to showcase your vocal prowess? Our stage is yours! Karaoke is optional, but the spotlight is open for those brave souls who want to steal the mic and make the night truly unforgettable.
👯‍♀️ Sexy Outfits & PJ's Encouraged: Dress to impress in your sexiest ensembles or slip into your coziest PJs – it's all about expressing yourself and feeling fabulous. Whether you're in the mood for glamour or comfort, come as you are and show off your style!
🎉 Let Loose and Be Anything You Want to Be: This is your night to escape reality and be whoever you are. Leave your inhibitions at the door, embrace the moment, and get ready for a night of wild fun and surprises.
There's no holding back at "OMG Service Industry Night" – it's a celebration of freedom, self-expression, and good times. Join us as we transform the ordinary into the extraordinary, and let the wildest night of the week unfold.
Don't miss out on the ultimate night of revelry and self-discovery! See you at the party!